I've talked so much about this that I feel its time to get it down in some sort of official capacity. Our summer vacation is officially over and I had a wonderful time with my family at the two big resorts in the Orlando Area, Disney World and Universal Studios. We had five days in Disney World, two at the Magic Kingdom, one at EPCOT, one at Hollywood and one at Animal Kingdom. We had three days at Universal divided into Universal Studios Florida, Universal's Islands of Adventure, and Universal's Volcano Bay.
DISNEY WORLD REVIEW
In a perfect world, I would have gotten another day at Blizzard Beach so I could compare water parks, but alas it was closed for refurbishment when I made reservations in 2023. At Disney World, we stayed at Shades of Green which is located right inside of Magic Kingdom across from the Polynesian. It was actually an amazing experience. That property was well maintained and the rooms were fantastic. The property had two great pools and even the on-property restaurant Manginos was great ( one of the highlights of our dining experiences). I wanted to note here that road work had forced a close down of the walkway between SoG and the Polynesian, which meant we couldn't walk to the nearby monorail and were instead forced to take buses. This unfortunately did contribute to increased commute times despite SoG adding more buses to their pickup schedule.
I'm likely stating the obvious here, but the Magic Kingdom is more suited for younger children. I had taken my daughter there when she was six. She doesn't remember any of that experience. At thirteen, much of the magic Kingdom for her was rather boring. She liked the thrill rides ( TRON, Thunder Mountain, Seven Dwarfs and Space Mountain ) but was bored with Haunted Mansion and Pirates of the Caribbean. Her days of princesses have sadly passed. Her favorite ride at six was Splash Mountain but that was sadly down for renovation. The lines were atrocious all around – the longest was around 50 minutes ( Thunder Mountain) and I refused to pay for the Genie + on our MK days. Dinner was at Be Our Guest and I have to say that my filet mignon was cooked to perfection – I could have cut it with a spoon. Was the dinner worth the hefty price tag? IMO yes but know what you are paying for – the ambiance of being in a castle. I probably won't do that again, though. My daughter didn't really care about Beast making his guest appearance. We stayed for the fireworks at Cinderella's castle and I was blown away by the quality of that show. We were able to get a good spot in front of the castle and I hadn't anticipated how this show had changed over the years – Disney really made this a sight for the eyes!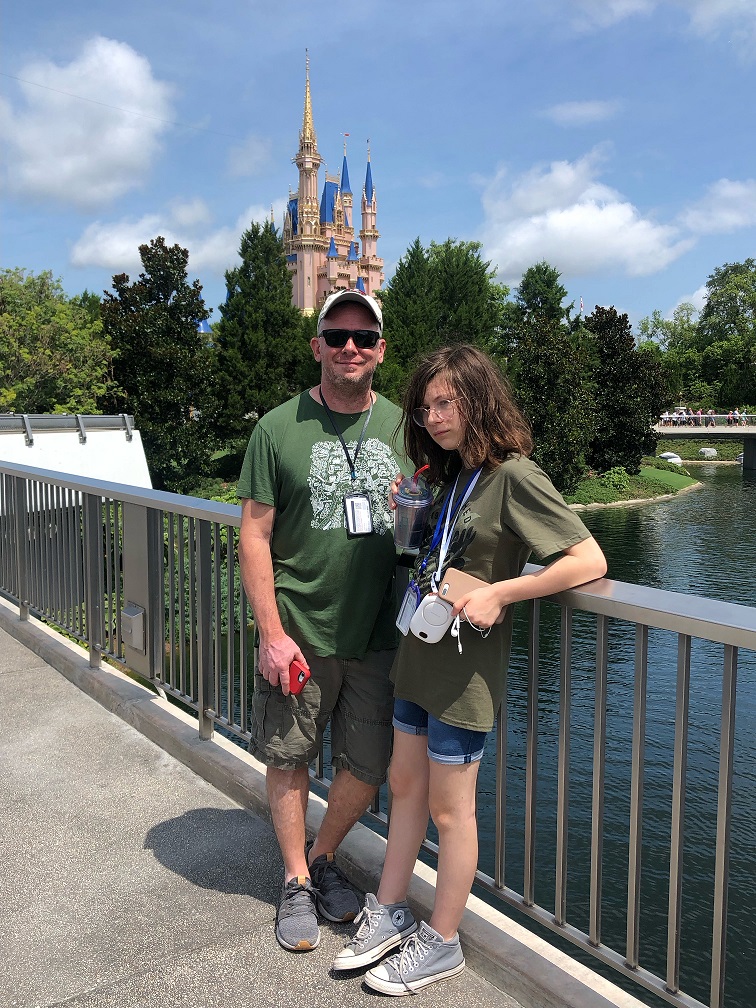 Disney Hollywood was a new experience for me personally and I actually enjoyed it. The art deco styling of the buildings made it seem like park was right out of the 50s. Our first ride was Rock N Roll Rollercoaster and the whole family enjoyed that one. The line was long but the payoff was worth it. The Tower of Terror was a thrilling experience and I really liked the spooky theme of the hotel with the clever Twilight Zone throwbacks. Galaxy's Edge was done very well – Disney really did go next level with this theme. For a moment I almost forgot how mad I was at them for ruining Star Wars ( I will never forgive them!!!!). I spend a good deal of time admiring the details in every building I came across. Smugglers Run, on the other hand, was kind of lame. It is a 3D ride that really was mashing buttons and following the story. Toy Story land was neat – I liked the idea of making the visitors feel like they were the size of toys. Slinky Dog was the ride my daughter liked here. We ended up having dinner at the Mama Melrose, which had surprisingly decent Italian fare and then watched Fantasmic to close the night. The show was fun to watch and blended lighting, characters, lasers and fireworks quite well.
Animal Kingdom is always a class act. I loved this place when we came the first time and now its even bigger. Our first destination was the Asia where we quickly did Expedition Everest to beat the crowds. The crowds were so low on the day we went that we were able to repeat the ride with virtually no wait! We then did the Kali River rapids, which are always a wet and wild romp! From there, we did the Safari and got a pleasant extension on our ride as two giraffes decided to block the vehicle for some time. We eventually got over to Pandora and did the Flight of Passage. Just like Galaxy's Edge, Pandora had some top-notch work done by the imagineers. It really was a sight to behold. And just like Galaxy's Edge, we were underwhelmed by the ride. The aesthetics of this new section are amazing but the 3D ride was something I would have gladly given up for another ride on Everest. All-in-all, this park still makes me think it's Disney's crown jewel. It really does stand out from the rest, everywhere you look in this park, you'll find artistic attention to detail infused with nature.
Our day at EPCOT started off great. We went to the Seas with Nemo & Friends first. The ride was kind of lame, but that aquarium was amazing. We got a chance to watch manatees feed on cabbage and see the assortment of sealife on the other large aquariums. Honestly, I think they should just ditch that nemo ride and expand that aquarium with some kid-centered activities like the other major aquariums do. Disney could be right up there with the Baltimore, Monterey Bay and Atlanta aquariums with a little investment – heck they could literally copy some of what those aquariums are doing and it would be an amazing experience.
The wife and I were on a mission to eat well while we were here. Disney had a lot of tapa-style vendors around the world showcase for their garden festival and we stopped at damn near every one of them! It was a culinary delight and we didn't once have to step foot inside a restaurant. I did have a reservation at the France's restaurant that night but ended up canceling it as we had filled ourselves up. I should mention we went back to Shades of Green and had a fantastic dinner that night – didn't regret giving up that reservation.
One painful reality about EPCOT is that it still suffers from a lack of trees. Similar to the problems of Magic Kingdom's World of Tomorrow, EPCOT is still very much a concrete jungle. It hasn't changed much since I was a kid, it baffles me why Disney didn't implement more shade trees in their planning. I have a conspiracy theory that this was done intentionally by Disney to drive guests to cafes, shops and restaurants when the sun really starts heating up. There were times I just wanted to sit down and rest in the shade but EPCOT simply lacks spaces like this. Crowds amass in the few shady locations available.
We got to stop at most of the countries but my daughter grew weary of the boring adult stuff and wanted some fun time. We did the Guardians of the galaxy ride, which despite the wait time was fun. The wait time at Test Track was insane so we blew it off. My daughter had been sufficiently beaten down by the sun at this point and wanted to go back to the hotel. I sadly missed out on Living with the Land, which I haven't seen since I was a kid. All-in-all, EPCOT still feels like "adult day" at Disney. But I still get the feeling like its missing something. Way back in the 80s, EPCOT felt like a peek into the future – an extension of Walt's vision for a better tomorrow. Back then – in the 80s, I got to see touch screen monitors, see prototype cars, alternative energy production… the visionary aspect of the park was something unique that no one else did. I don't get that feeling about EPCOT anymore. It feels like just another park now. Something about Walt's vision has died and been replaced with BUY, EAT, CONSUME.
UNIVERAL STUDIOS REVIEW
We stayed at the Lowe's Sapphire which is right off the Garden Walkway that connects the resort properties and Universal. We also had the water taxi dock right off our resort, which made the commute times extremely low. When we decided to walk from Universal to the resort, it was a slow-paced 20 minute walk. That's quite amazing – there were times we had waited 20 minutes just for a bus or monorail to arrive at Disney. The savings on commute time was well worth it and should be factored in – albeit we elected to stay at a premier resort. As far as I'm concerned, this value was 100X better that a comparable Disney premium resort. No, we didn't have monorail running through our property but the water taxi was just as good ( if not faster at times). The only problem being that the water taxi does close down when it rains. And as it's Florida, that means you might get stuck waking if a storm pops up. The Sapphire also had two amazing restaurants – they were so good that we rarely ate down at the City Walk. I'd place those restaurants above most of the places we ate at ON OUR ENTIRE VACATION. Also, the mountain-themed pool was fantastic. My daughter put that slide to use and my wife and I were in the hottub often. My only complaint with the Sapphire is that they chose to use barn-door styled frames for the bathroom – a poor choice IMO with families that may want a little privacy while using the facilities.
Our first day at Universal was at Islands of Adventure. Using the Universal app, we scouted out the wait times and went to the velciocoaster first. I didn't realize what I was in for lol. That rollercoaster was intense and my daughter LOVED it. My wife, on the other hand, looked like she had one foot in the grave after getting off. We then migrated over to Hogsmeade. My wife is a huge HP fan so this was the least we could do after that coaster ride. I was impressed with the level of detail done on this section of the park. I didn't really research anything and kind of assumed that they had just replicated Hogwarts, not expecting Hogsmede (or Diagon Alley). We had lunch at the Three Broomsticks – which was definitely as bland as English food gets. Yes – my mom is British which gives me the right to crack that joke. Hagrids Motorbike had an insane wait time so we got on Flight of the Hippogrith. It wasn't really that great of a coaster – I'd say this was similar to Disney's Slinkey Dog in that its a coaster for kids. It isn't something I'd wait in line for too long. Forbidden Journey was fine but honestly I was more into the castle itself, the talking pictures on the wall and all the other details they made.
We didn't spend any time in the Dr. Seuss section. Honestly, it looks like the once bright colors have now faded and the whole thing had a dated vibe to it. We went back and did the River Adventure in Jurassic Park. I was actually puzzled at how bad the animatronics were in the water part of the ride. None of them moved with fluid/lifelike movements. The crescendo of that ride was better and had a decent drop as a payoff. From there, we went over to ride the Hulk – which was a roller coaster that started off with a bang and ended on some slower loops ( weird ending). I still liked it though, well worth the 1/2 hr wait. Rain concluded our day here and we couldn't get the water taxi back to the resort – so we ended up doing a 20 min soggy walk back as the rain kept doing its thing.
The second day we started with the Rockit coaster. The ride itself was fantastic, with a 17 story height and a long run time – literally this coaster ran the length of the park. The only odd part was the ability to select music. This coaster gives you the ability to pick songs from a playlist and play them while going through the ride. Unfortunately, the songs were all dated. I didn't mind this too much as they had Crystal Method, and that song seemed perfectly suited for the rides drops. But it gave an otherwise great ride a very dated feel. Still, this coaster is one of the parks best. Next, we jumped over to the Mummy and this was perhaps my most pleasant surprise of the park. The ride was every bit as cheesy as the movie and I loved it. There was one area where a room catches fire and it was all done with practical effects – you felt the heat as the ceiling was ablaze. This ride was actually more impressive to me than Hogwarts, I felt they really did better old school scares and the lighting was really well done. From there, we wandered over to Diagon Alley and here I was once again impressed by the crafting done on this section of the park. Everything was superb, from the magic shop to the dragon occasionally launching fireballs across the alley. The dragon looked better than it did in the movie! We skipped Fast and the Furious, the Simpsons and MIB and took the train back to Adventure Island, where my wife happily invested in some magic wands. At that point, the skies opened up and we once again had a soggy walk back to the resort.
Our last day was at Volcano Bay and honestly I couldn't think of a better way to end it. I've been to some pretty stellar water parks and this is certainly one of the better ones. I think my daughter and I did every possible tube ride there was with the exception of Krakatau, which had a perennially long line. We all enjoyed the TeAwa river, which had crazy rapids that would turn on and off. Each lap was a different experience so it never got old. My daughter did the Ko'okiri body plunge with me but I don't think she'll ever do that again – she was genuinely terrorized from that thing. I didn't think anything would break her but that ride did!
DISNEY WORLD VS UNIVERSAL STUDIOS
Again, I feel that I should have been able to experience the Disney water park to give an accurate comparison, but I can't control the service work being done now by Disney so I'll try to take that into consideration. One think I don't have to take into consideration is the size and scale of Disney World. You would think bigger is better but I dare say that when comparing theme parks, Universal might have an edge here in its smaller size. With everyone eyeballing wait times on the app, having less of a distance to travel to another ride makes Universal appealing. That travel time also applies to inter-park transfers, where universal has a clear edge when moving between one park to another. Its not to say there aren't problems. I think Universals app is clunky and at times getting through the gate took slightly longer ( not a terrible difference mind you – just a few seconds). Oddly I didn't experience as many bottle necks in Universal as I did in Disney. Hogsmeade was the busiest area of Universal and I never found myself frustrated with the crowd. Disney's closing fireworks show at Cinderella's castle and Fantasma were great and can't be topped by Universal. In terms of overall quality, Disney is still king on theming. But if Universal can repeat the magic they did with Harry Potter, I sense this gap might get closer in the future. I can't help but feel that the Magic Kingdom is in need of updates. Space Mountain is still stuck in the last century. EPCOT is losing its futuristic luster. At the end of the trip I think I had more fun in shorter time frames at Universal. The rides seemed to turn over faster and we definitely go on the Universal coasters faster than the Disney coasters. I feel like I spent less time in lines and more time being entertained in Universal than Disney. And I'm sure if I factored money into this, that my dollar bought me more entertainment time in Universal. It's not an easy comparison but I can't argue with my general feeling that Universal felt "more fun".